The Paik Choong-Hyun Prize will be awarded by the Asian Society of International Law (AsianSIL) on a biennial basis and presented at its Biennial Conference.
The Prize is designed to honour the memory of Professor Paik Choong-Hyun (1938-2007), who was Professor of International Law at Seoul National University, Korea (1968-2004); Dean of its Law Faculty, Vice President for Academic Affairs and Education, and Dean of the Graduate School. Professor Paik also served as Special Rapporteur on the situation of human rights in Afghanistan for the UN Commission on Human Rights (1995-1998). He dedicated his life to the teaching, research and promotion of international law: he founded Seoul International Law Academy in 1984 and was closely involved in the founding of the AsianSIL.
The criteria for the Prize are an individual's exceptional contributions in the Asian region (including Australia, New Zealand and Oceania) to:
the promotion of international law and the rule of law through practice and academic activities;
the peaceful resolution of international disputes; or
the protection and promotion of human rights.
For 2017, the Asian Society of International Law decided to award the inaugural Paik Choong-Hyun Prize jointly to four giants of international law from our region, all of whom sadly passed away in recent years. In recognition of the lifelong contributions to the promotion of international law and the rule of law, the Society awarded the prize jointly to Professor R.P. Anand, Judge Florentino Feliciano, Judge Wang Tieya, and Judge C.G. Weeramantry.
The families of these distinguished jurists will each receive a cash prize of US$4,000 together with a plaque and a certificate. The Society is delighted that the family of the late Professor Paik Choong-Hyun will be donating a sum of money towards this Prize once every two years.
The Prize was presented to the families of the distinguished awardees at the 6th AsianSIL Biennial Conference (26 August 2017) in Seoul, Korea.
Judge Christopher Weeramantry 
"Judge Christopher Weeramanty has been a jurist of striking range, depth, independence and erudition. His famous judgments in Nuclear Weapons and Gabcikovo now appear to be more important than ever. They are also significant for incorporating Asian legal and cultural traditions into the jurisprudence of the ICJ. Judge Weeramantry is a man of immense kindness and gentility, and was loved and admired by all who knew him.  Justice Weeramantry, in 2006, received UNESCO Peace Education Prize for his outstanding commitment in supporting the concept and culture of peace through his career. He was considered an expert in the field of reconciliation and international law. His writings, as scholar and judge, will continue to inspire generations to come who hope that international law can bring about a more just world."
Here is a related article that appeared in "The Island" (a Sri Lankan newspaper): Judge Weeramantry wins posthumous award
Judge Florentino Feliciano 
"Judge Florentino Feliciano has been a legal scholar, lawyer and jurist exemplar. He retired early from the Philippines Supreme Court to join the World Trade Organization. He was a member of the Appellate Body of the WTO in Geneva, Switzerland, and had chaired the appellate body of the WTO. He then became a member of the World Bank Administrative Tribunal. Throughout Justice Feliciano's remarkable career, he was a lawyer with an international reputation for the highest level of excellence and integrity, and widely considered, in the words of his peers, a 'towering scholar in international law'."
Judge Wang Tieya
"Judge Wang Tieya had an illustrious academic career, commencing as Professor of International Law at the National Wuhan University in 1940. In 1983, he became the founding Director of the International Law Institute of Beijing University. Judge Wang has been a member of the Permanent Court of Arbitration; honorary member of l'Institut de Droit International and a fellow of the World Academy of Art and Science. Wang was elected in 1997 as a Judge of the International Criminal Tribunal for the Former Yugoslavia."
Professor R P Anand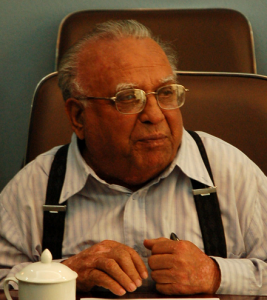 "Professor Anand was the President of the prestigious Indian Society of International Law and a Vice President of the Asian Society of International Law. He was Professor Emeritus of International Legal Studies at Jawaharlal Nehru University in New Delhi, India, and served there for nearly 33 years as Professor and Head of that Division. He was widely recognized as a spokesperson of the Third World views on the subject. Elected member of the Institut de Droit International, he was the author or editor of 21 books. Professor Anand has published more than one hundred articles in professional journals. A special panel was convened in his honour at the Third Biennial Conference of the Asian Society of International Law in 2011."